Both the Vivo V15 and Oppo F11 Pro launched recently and both have a popup selfie camera with motorized mechanism but that's not the only common thing between them. The respective manufacturers of the devices made some ridiculous claims about the durability of the pop-up mechanism.
The popup selfie camera trend started back in 2018 when Vivo showcased the concept phone Vivo Apex.  Little did everyone know that this popup selfie camera trend will be the salvation path for the smartphone manufacturers to address the bezel-less screen dilemma.
Though Vivo pioneered this trend, Oppo took it a step further and designed the Oppo Find X with a whole chunk of the phone going up to take a selfie. Since then a war of the popup selfie camera has started between the two companies, which resulted in these absurd claims about the latest offerings from these brands, Vivo V15, and Oppo F11 Pro.
What's so Absurd about it?
During the launch of Oppo F11 Pro, the company boasted about the rigorous testing method of F11 Pro and professed that it had been tested 200 thousand times. Adding to that, the company official assured that it could be used 100 times per day for 6 years which roughly translates into 219,000 times.
Interestingly Vivo also made such a ludicrous claim about the popup selfie camera of Vivo V15 on the phone's official launch in Pakistan. As per Vivo, the motorized front camera on the V15 withstood its stern testing method 100 thousand times and could be used 100 times per day for 8 years.
While there may be a few factors to it, let's address the most obvious one first. How on earth could a company test a popup selfie camera for lesser time and guarantee its longer usage while the manufacturer that tested the camera greater times can guarantee a shorter time of usage?
It seems contradictory as the device that is tested more times should be more reliable and should work for a longer time than the one which is tested fewer times.
Birds of the Same Feather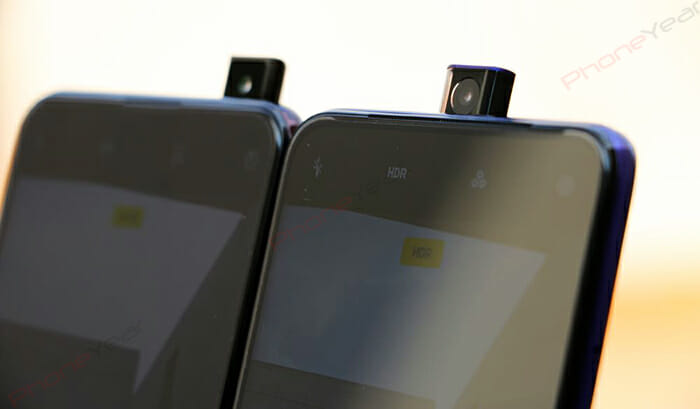 Before we proceed further, know that both Vivo and Oppo are the subsidiaries of the same Chinese tech giant BBK Electronics. So, why exactly do two of the major smartphone manufacturers who are owned by the same company have so many statistical blunders in their claims about the same popup selfie camera technology?
Conclusion
We think it's rather a marketing gimmick than an actually plausible scenario. Smartphone industry trends are changing every year and it's obvious that no one really keeps using the same phone for 6 or 8 years in this day and age.
Though both the companies made huge claims about their phones and the durability in their technology, both Vivo and Oppo did not justify their claims by disclosing the testing methods, which is why these claims seem as hollow as the hole for their pop up selfie camera.